We exist to make Jesus known.

EQUIPPING
We believe the Bible is how we are "equipped" so that we may grow as Christians and lead others to a saving faith in the Lord Jesus Christ.
"All Scripture is given by inspiration of God, and is profitable for doctrine, for reproof, for correction, for instruction in righteousness: That the man of God may be perfect, throughly furnished unto all good works."
2 Timothy 3:16-17

ENCOURAGING
We believe that being "encouraged" is accomplished by helping others through the use of our hands.
The Apostle Paul wrote, "And when I was present with you, and wanted, I was chargeable to no man: for that which was lacking to me the brethren which came from Macedonia supplied."
2 Corinthians 11:9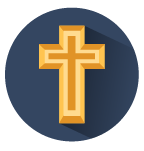 EMPOWERING
We believe for persons to be "empowered," it must be through the cross of the Lord Jesus Christ.
The Apostle Paul wrote, "For Christ sent me not to baptize, but to preach the Gospel; not with wisdom of words, lest the cross of Christ should be made of none effect. For the preaching of the cross is to them that perish foolishness; but unto us which are saved it is the power of God."
1 Corinthians 1:17-18
We look forward to seeing you here at Enon so that we may worship the Lord together in spirit and in truth.